NOW YOU CAN USE ANY ONE OF THE FOUR NEW STENCIL MAKERS AND MAKE ALUMINUM LABELS, NAMEPLATES, PANEL FRONTS, SIGNS AND TAGS
IN ANY SIZE UP TO 10"x 12" IN JUST 4 MINUTES
USING COPY, ARTWORK, DESIGNS OR TRADEMARKS
THAT YOU MAKE ON YOUR COMPUTER.

This Is Truly Revolutionary And Gives You A Special FREE Added Use For Your Stencil Maker!

IT IS EASY TO DO AND TAKES ONLY MINUTES!
| | | |
| --- | --- | --- |
| | | |
CHECK OUT THE VIDEO BELOW TO SEE HOW TO MAKE LABELS!
PUT SIGN-O-MATIC VIDEO HERE
NOW You Can Create on Your Own Computer any Black And White Line Drawing, Text Copy, Design, Artwork or Trademark And then make Professional Quality Labels, Nameplates, Signs, Equip. Tags and Panel Fronts In Minutes in Your Own Office, Shop or Plant Economically!

These Nameplates, Signs or Labels are Commercial Quality, Very Easy And Fast To Make And Will Save You Time And Money! And You Can Make Them on ALUMINUM With Adhesive Backs in Three Colors Black, Blue And Red

IMPORTANT NOTE: You Can NOT Use Photo's Or Grayscale On Signs Or Labels.
And Remember You Can Do This With Any Of
The FOUR NEW STENCIL MAKERS
(That Are Seen On Other Pages For
Making Metal And Etching Glass Stencils)
HERE'S HOW IT WORKS!
AND HOW YOU CAN CREATE YOUR OWN
CUSTOM NAMEPLATES OR LABELS...IN MINUTES!
1. MAKE YOUR COPY ON YOUR COMPUTer AND PRINT ON A TRANSPARENCY FILM. (INCLUDED IN KIT). YOU CAN MAKE YOUR COPY UP TO 10" X 12" OR ANY SIZE SMALLER THAT YOU REQUIRE.

2. PUT THE COPY YOU MAKE ON YOUR COMPUTER ON TRANSPARENCY FILM ON A SHEET OF INSTA-MARK ALUMINUM AND PLACE IN STENCIL MAKER FOR 3 TO 4 MINUTES. (DEPENDING ON THE SIZE NEEDED).

3. DEVELOP FOR 30 SECONDS AND DRY (DEVELOPS
WITH PLAIN TAP WATER!)- IT'S READY TO USE! fOR LONG TERM OUTSIDE USE THERE ARE CLEAR SHEETS
OF POLYCARBONATE OVERLAY AVAILABLE.
ALL INSTA-MARK SHEETS ARE 10"x 12" AND COME WITH A
HEAVY-DUTY 3M HI-PERFORMANCE ADHESIVE ON THE BACK.
INSTA-MARK SHEETS ARE .007" THICK AND CAN BE EASILY
CUT WITH A PAPER CUTTER OR SCISSORS.

BEST OF ALL YOU USE THE REGULAR SOFTWARE
THAT YOU NOW HAVE ON YOUR COMPUTER.
THERE IS NO SOFTWARE TO BUY!
JUST THINK OF ALL THE USES YOU CAN FIND IN YOUR PLANT FOR THESE
PROFESSIONAL NAMEPLATES, INSTRUMENT PANELS, SIGNS, TAGS, LABELS, ETC. THE POSSIBILITIES ARE ENDLESS AND IT IS SO EASY AND ECONOMICAL!

CALL OR E-MAIL FOR SAMPLES !!!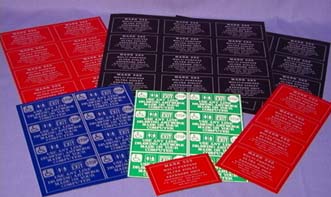 INSTA-MARK SHEETS COME IN
ALUMINUM IN THREE COLORS
SEE COLOR CHART AND PRICE LIST BELOW
NOW MAKE
ALUMINUM NAMEPLATES, LABELS, SIGNS AND EVEN INSTRUMENT PANELS OR EQUIPMENT FRONT PANELS
IN SIZES UP TO 10" X 12" AT ONE TIME IN MINUTES!


NOW MAKE SERIALIZED NAMEPLATES IN MINUTES! YOU CAN EVEN "GANG THEM" AND HAVE DIFFERENT MODEL & SERIAL NUMBERS ON EACH PLATE EASILY!

MAKE 12 OR MORE NAMEPLATES AT A TIME.

THERE IS NOTHING LIKE THIS ON
THE MARKET TODAY AT A PRICE
ANYWHERE AS LOW AS THIS ONE!

AND IT'S ON SPECIAL TODAY!

MARK 1000 LABEL MAKER
(Shown Above)
(Important Note: You Can Use ANY Of The Four Mark 440, 560, 680 or Mark 1000 Stencil Makers To Make Labels, Nameplates And Signs)

KIT CONTENTS: MARK 1000 LABEL MAKER
1 10"X 12" Exposure Unit with 500 Watt Ultra-Violet Bulb & Power Cord
1 Electrical Timer
1 12"x 15" Developer Tray
1 10 Pak 10"x 12" Alum. Insta-Mark Sheet (You Choose Color)
1 5 Pak 10"x 12" Overlay Sheets
1 10 Pak 8 1/2"x 11" Transparency Film
1 10"x 12" Foam Compression Pad
1 10"x 12" Compression Glass for above
2 Developer Sponges
1 Complete Instructions

Put Different Numbers, Designs or
Trademarks on the Same Nameplate
at the Same Time on the Same Sheet.

$399.95 COMPLETE KIT!
ON SPECIAL TODAY!
ONLY $299.95!
SAVE $100.00
We Do NOT Guarantee This Price Will Be Available Tomorrow! Today's SPECIAL PRICE...DON'T MISS IT!



Sign-O-Matic Aluminum Sheets
ALUMINUM SIGN AND LABEL S
Black on Aluminum
.007" Sheet Size
10"x12"
$13.95 per Sheet
Red on Aluminum
.007" Sheet Size
10"x12"
$13.95 per Sheet
Blue on Aluminum
.007" Sheet Size
10"x12"
$13.95 per Sheet
Full Box - 10 Sheets
All One Color
10"x12"
$119.95 per Box
Overlay Protective Single Sheets
No Minimum
Gloss Finish Overlay Protective Sheet
10"x12"
$5.95 per Sheet
Matte Finish Overlay Protective Sheet
10"x12"
$5.95 per Sheet
Polycarbonate Overlay Protective Sheet
10"x12"
$5.95 per Sheet
Full box of 10 Sheets -
All One Kind
10"x12"
$49.95 per Box
Martronics Corporation is an Expert in
Marking Metal and Etching Metal, Multi-Tools, Craft-Stencils with Paint, and Making Rubber Stamps.
Save Money on Your Auto Insurance.
Click Here to See Our VIN Etching Kits On Sale for $14.95.
Our New Glass Etching Kits Let You Put Your Artwork On Glass In Minutes.
The Etch-O-Matic Marking System is an Inexpensive Alternative to Laser Etching and Laser Engraving.